The process of getting a visa for Sudan doesn't end when you get it, as, there are a couple of steps that need to be taken once you are in Sudan. If you follow all the necessary steps, getting a Sudanese visa isn't complicated but, there is some bureaucracy that needs to be done.
This post keeps regularly updated thanks to the input from some amazing travelers. All the information you see is the latest updated from 2018.
For more information read my travel guide to Sudan
Where to apply for a Sudan visa
How to get a visa in Aswan (Egypt)
Travel Insurance for Sudan
Registration and other bureaucracy stuff 
Where to apply for a Sudan visa
There are four main options:
Sudan visa in your home country or country of residence – If your country or city has a Sudanese embassy, that's great, as you can apply for it from there. The downside of it is that each embassy has its own rules and some of them require a letter of invitation. Also, if you are not sure of your date of entry, it would probably be better to apply for it in Egypt or Ethiopia. Typically, the embassies charge 100USD. If your embassy required a LOI, I recommend you contact a reasonably good hotel in Khartoum.
Sudan visa in Addis Ababa (Ethiopia) – According to a reader of this blog, things got easier in Addis Ababa. However, bear in mind that, sometimes, they may give you trouble if you don't have a letter of invitation. For the visa, the process is quick and it only takes 1 working day. It costs $68. Make sure to arrive early (around 8 a.m.) as they only accept the application until 11am. Bring the invitation letter, a copy of your passport, 2 photos, address of stay in Sudan, address and tel number of your sponsor in Sudan. They issue both entry and transit visas.
Sudan visa in Cairo (Egypt) – Cairo would be the second easiest place where to get a visa. Apparently, you can get it on the same day of application but it costs 100USD and you need a letter of invitation from your embassy. How long does it take to receive an LOI? That depends on your embassy in Egypt, exclusively.
Sudan visa in Nairobi (Kenya) – A traveler recently reported (September 2018) that he applied for the visa in Nairobi and got it on the next day. He didn't need to present any special document, besides passport and the usual stuff. The price is 55USD.
Sudan visa in Aswan (Egypt) – Top choice – Aswan is a city which is only 300 kilometers from the Sudanese border and, this is by far, the easiest, quickest and cheapest place to obtain a visa. I got my visa for Sudan in Aswan, so that's why I will focus exclusively on how to get it there.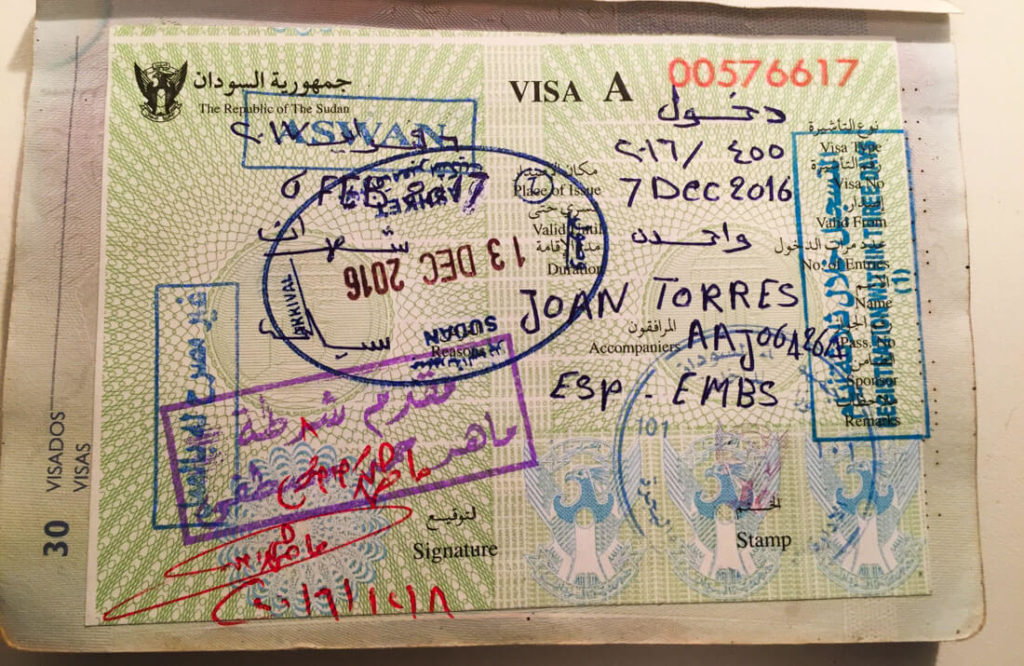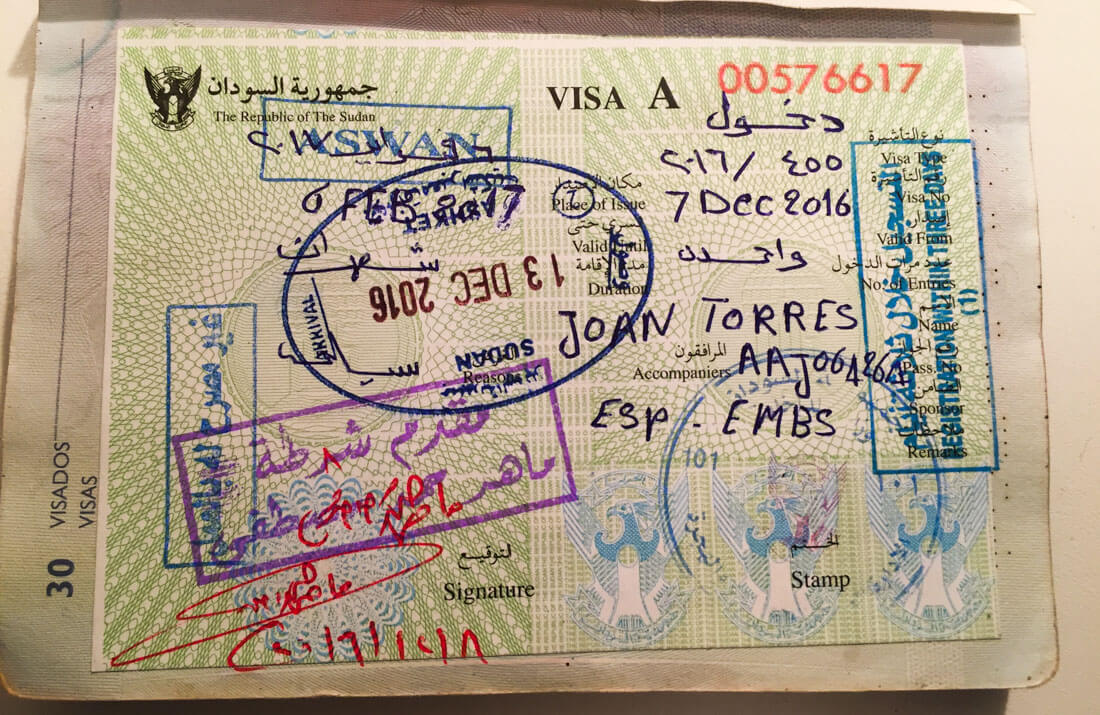 Getting your visa for Sudan in Aswan (Egypt)
Sudan visa requirements
Original passport, passport copy, and Egyptian visa copy (there is a shop 100 meters from the Consulate where you can make copies)
2 passport-sized photos
50USD. Please note that they don't accept any other currency and may not have change.
US Passport holders – IMPORTANT! –It's possible for US passport holders to get the visa in Aswan but they must have arranged a permission to visit beforehand via the US embassy, a process which takes around 2 weeks. According to the embassy official, a sponsor is not necessary, as long as permission is given.
Read: Egypt-Sudan border crossing
How long does it take the get the visa for Sudan in Aswan?
Times highly varies. In my case, when I applied in 2016, it took me 5-6 working days. I applied on a Monday and got it on Monday of the following week.
Update June 2018 – Several people are reporting that you can easily get you visa on the next working day and, if you insist, you can even get it on the same day, so they are getting quite serious with that! It makes totally sense to push a bit!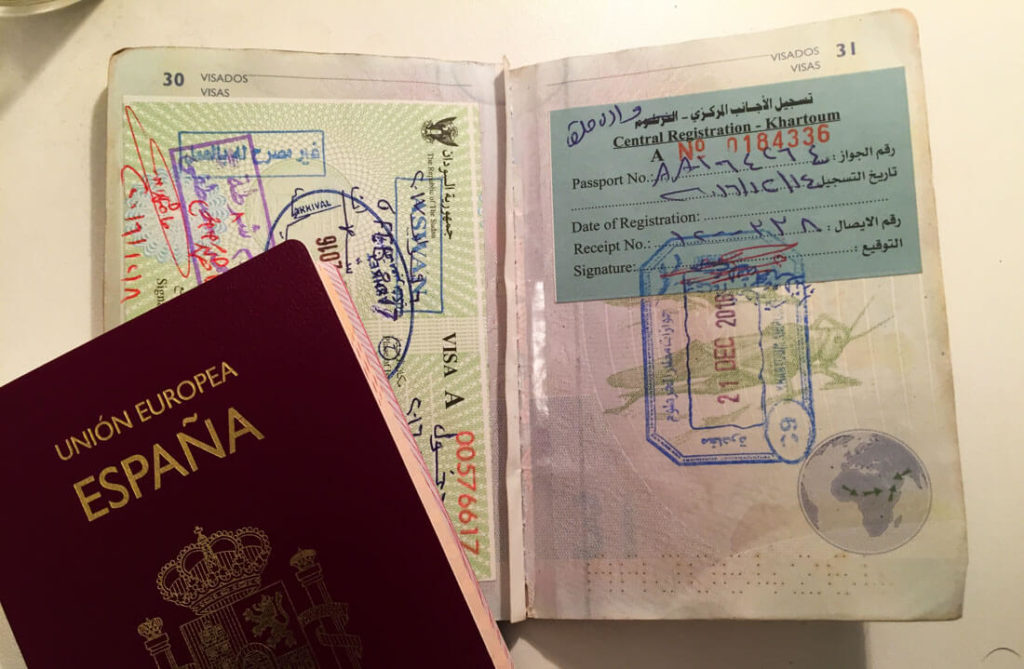 The Consulate of the Republic of Sudan in Aswan
You'll need, obviously, to go to the Consulate of The Republic of Sudan, which is 6 kilometers from the city center. Before going there, bear in mind the following:
The Consulate is closed on Friday and Saturday
The visa section is closed on Wednesday
The working hours for the visa section are from 8:30 am to 12:30 pm
There's no need to have an appointment, just show up there
There earlier you go, the better, as it gets pretty busy after 10:30 am
It takes around 2 hours to apply for your visa
Attaching the Consulate location below
Travel Insurance for Sudan
You need to know that, because of the sanctions, most regular travel insurance companies such as World Nomads, will not cover for travel in Sudan, even if you bought an "Around the World" policy.
IATI Insurance is one of the very few companies that does cover for Sudan. I have used it a few times and this is the reason why I recommend it:
It covers for Sudan and has loads of different plans, including plans for backpackers
It offers very attractive prices
The readers of this blog can get an exclusive 5% discount
Buy it through this link to get your 5% discount
Registration in Sudan
Getting your registration form at the border
Whatever country you are traveling from, once you are at the Sudanese border, the authorities will give you a special form that needs to be filled out. You need to keep a copy of it and not lose it. Why? Because you'll have to present it at the police station for registration.
Registration at the Wadi Halfa's police station
From the moment you cross the border, you have 3 days (or 4 days, unofficially) to register at any police station. The easiest place to register would be in Wadi Halfa, but you could also register in Abri, Karima, Dongola and even Khartoum.
Update 2018! According to a traveler, now you can only register at the entry ports, including Wadi Halfa, Khartoum, Wadi Halfa, Port Sudan and Sawakin!
In Wadi Halfa, the whole process took less than 20 minutes. For that, you need to go to the police station and give in your registration form. You'll need a copy of your passport (you can make a copy there for 1SDG). They will also ask you for a picture but, if you don't have it, it's not a problem.
Another traveler did it in Abri and he claims that it was also very easy. Moreover, in Karima, apparently, the people there don't really know what they are doing, so it takes forever. In Khartoum, it's also pretty quick but more expensive plus it's a big city, so you may end up wasting more time in finding the place
Registration price – When I went there in December 2016, the price was 370SP.
However, in Sudan, things change quickly and, in November 2017, some police stations were charging from 540SDG to 632DG, depending on which town or city. In Wadi Halfa is 540SDG (30USD).
By the way, the official price in USD is way higher than the actual amount. Pay in local currency.
Note – This step is a must. Otherwise, you may be not allowed to leave the country or pay a huge fine. When I was traveling in Azerbaijan, I also didn't register and, at the border, had to choose between paying 200USD or getting deported and banned from entering the country within a year.
Getting your travel & photo permit at the Ministry of Tourism
UPDATE SEPTEMBER 2018 – THE TRAVEL PERMIT IS NO LONGER NEEDED!
The last thing you need to do is to get your photo & travel permit.
What are the required documents? – Passport copy, one photo, and your registration. It's FREE of charge!
When applying for this permit, they will ask you what will you visit in Sudan, as well as what will you take pictures of.
Do I need this permit? – If your final destination is Khartoum (and you don't leave Khartoum), you don't need to get this permit. The authorities will ask you for this permit only when leaving Khartoum. In my case, I traveled from the north of the country to the capital. Since Khartoum was my final destination and I left there by plane, I didn't need to apply for this permit.
Where? – At Khartoum's Ministry of Tourism.
This is the approximate location. It's in front of AlFaisal Cultural Center, across the street.
Other registrations
In some cities and villages, the hotels ask you to register at the local security office. It's a pain in the ass but it's pretty straightforward and you don't have to pay. Just go there, tell them the name of the hotel and how many days are you planning to stay.
More about Sudan:
Sudan Travel Guide
How to visit the Nubian pyramids of Sudan
Tales of the Nubian people in Sudan
Is it safe to travel to Sudan?
if (d.getElementById(id)) return; js = d.createElement(s); js.id = id; js.src = "http://connect.facebook.net/en_US/sdk.js#xfbml=1&version=v2.5&appId=417184695094507"; fjs.parentNode.insertBefore(js, fjs); } (document, 'script', 'facebook-jssdk'));



Source link